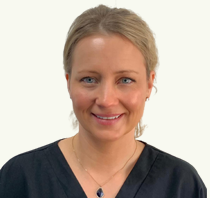 Katarzyna Cyndrowska
Dental Hygienist
Registered under s36C of the Dentists Act 1984 2021
National Certificate NEBDN 2007
GDC No. 183074
Kate started her dental hygiene program in Poland in 2017 and graduated in 2019. Kate then went on to register with the GDC in 2021.
Now our hygienist, Kate started her journey as a dental nurse in 2005.
Kate knows that trust is a crucial aspect of her daily work and enjoys helping patients feel comfortable as she advises on good brushing and flossing techniques that prevent gum disease. Kate aspires to broaden her role in periodontology and help introduce therapy as standard in general practice.
In addition to dental hygiene, Kate carries out special Airflow polishing for those stubborn stains where other cleaning methods may be less effective.
Kate is a busy mum and who enjoys a healthy lifestyle. In her spare time she enjoys Yoga, Zumba and travelling, socialising with friends.
Back to Meet the Team