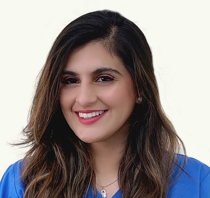 Dr Rima Sadhia Hussain
Associate Dentist
BDS London 2016
GDC No. 265167
Dr Rima Sadhia Hussain graduated from Kings College London and has since completed her training in the competitive London deanery. Her strengths include providing care for new and nervous patients and paediatric patients.
Since graduating, Rima has completed the first part of the MJDF diploma from the Royal College of Surgeons, and is due to complete the qualification in April 2020.
Alongside work in practice, Rima teaches third and forth year dental students at Guys teaching Hospital. She has a keen aesthetic eye and enjoys providing natural minimally invasive aesthetic treatments, such as Botox, dermal fillers, tooth whitening and Invisalign. She has a relaxed demeanour which helps with first time clients, as well as regular patients.
She enjoys writing about dentistry, and has authored several articles targeted at newly qualified dentists from Sep 2017- Jan 2020.
Rima has conversational level skills in Spanish and Urdu as well as a keen interest in clinical dental photography.
Back to Meet the Team